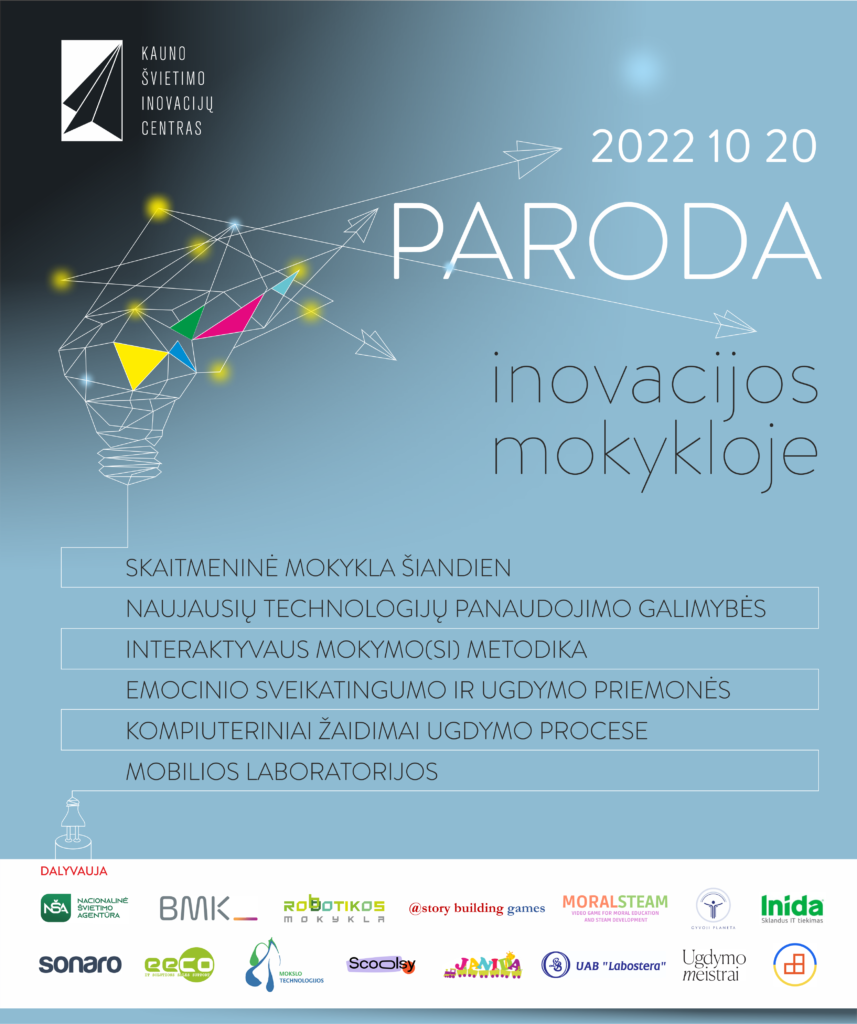 The multiplier event in Lithuania was organized on October 20, 2022 in the second biggest city Kaunas. It
was held at Education innovation center (Švietimo inovacijų centras) as part of an exhibition Innovations
at School. This occasion for the multiplier event was chosen because Robotikos mokykla is working
actively in the school education sector and in this way, we could promote cross-sectoral cooperation
and sharing project's results beyond the Youth sector.
40 participants attended our programme. The majority of them were teachers and directors of various
schools, progymnasiums, gymnasiums, vocational and art schools. There were also participants from an
open youth center, a regional youth career center Karjeras and business representatives (from
companies that supply innovative educational equipment). Participants came from not only Kaunas
region, but also more remote locations (Panevėžys, Tauragė, Akmenė).
AGENDA:
9.00 Start of the day. Welcoming the guests.
9.50-10.20 Presentation of the project and the platform (speaker Akvilė Gerulskytė, project
coordinator).
10.20-11.00 Tools expo
11.00-11.30 The benefits and values of international projects for the school (guest speaker Ernesta
Smalinskė, deputy head mistress of VGTU Engineering lyceum).
11.30-13.00 Tools expo.
13.00-14.00 Coffee, snacks and networking.
The presentations were initially planned for 15-20 minutes, but actually took longer, mostly due to
answering questions from the audience.
In the afternoon, the participants could also take part in two other presentations offered by Robotikos
mokykla (related to other projects) and/or explore the rest of the exhibition. The expo ended at 18.00.
FEEDBACK:
The concept of the hackathon was unfamiliar to the majority of the participants, so it was
beneficial for them to hear about the hackathons of this project and the ideas developed.
The importance of digital tools was acknowledged by everyone. Some participants knew how
Discord works and a few use them for their classes.
A project is successful when it is in line with the organization's goals. Then its results and
activities keep running, transforming and expanding even after the project's official end.
The audience was interested in the technological equipment that was part of our expo: CO2
level measuring device, 3D printer, Think Inside the Box kits (cardboard boxes with 3D printed
parts and electronics inside).
OUTCOMES:
The targeted Lithuanian audience learned about the project's activities and results.
New connections were made with schools, governmental institutions and private companies.
Project's results were shared beyond the Youth sector.